SWAN volunteer Tzipporah has created a visual schedule for the Edinburgh festival to make it more accessible for neurodivergent visitors
It's almost festival time in Edinburgh, and we're excited to share the visual schedule that SWAN volunteer Tzipporah created for the Edinburgh Fringe!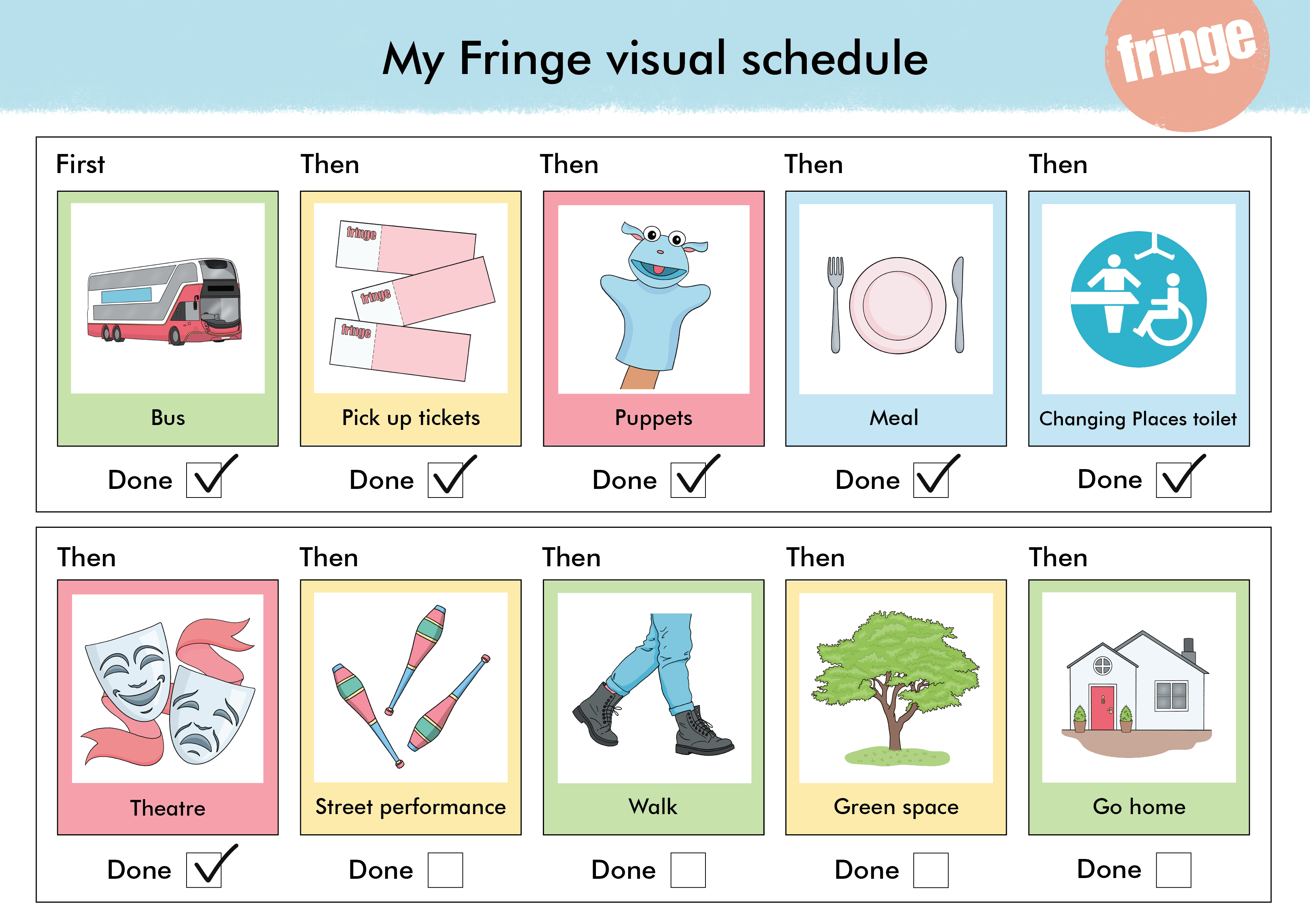 As well as volunteering as a facilitator for SWAN, Tzipporah is director of Door in the Wall Arts Access CIC and founder member of Neuk Collective, and she created the visual schedule as part of these roles. The visual schedule is one of a number of initiatives the Edinburgh Fringe is taking to make the Fringe experience more accessible for neurodivergent visitors. It is available as part of a free Fringe sensory backpack, containing stim toys and sensory aides, or there are downloadable versions available to print at home.
Lots of autistic people (and many others!) benefit from visual prompts to help us keep track of where we are in our days and know what's happening next. A day out at the Fringe can be overwhelming, and the visual schedule (sometimes called a Now-and-Next board) is designed to help us feel less anxious and more in control. There are cards representing different things you might do on a day out at the Fringe – red for types of show, yellow for 'Fringe experiences' like picking up tickets or watching street performers, green for transport, and blue for self-care, plus blank cards you can fill in yourself. These are then arranged in order on the timetable sheet, and each activity is ticked off as you do it.
Tzipporah says: "This resource is based on a childhood growing up in Edinburgh and going to the Fringe. I loved going, but I also found it overwhelming, and would quickly become unmoored. Lots of days out ended in a meltdown because I felt so overwhelmed. I know from my time as a SWAN facilitator that lots of other autistic people have similar experiences. We want to be able to access these kinds of events, but they can also make us feel very out of control. As an adult I learned to make my own visual aides to keep me grounded, but I wish I'd had something like this when I was younger. I really hope that other neurodivergent people and families find the schedules helpful – I would love to hear your feedback!
It is great that the Fringe is consulting neurodivergent people on accessibility, that they are working with neurodivergent artists to create resources for neurodivergent visitors ".
You can get a timetable as part of a free Fringe sensory backpack, or download one to print at home here: https://tickets.edfringe.com/accessibility#backpacks